Digital marketing attracts customers through content marketing, emails, social media platforms, and more.
Almost every company uses digital marketing to promote their products, services or brands.
Marketers have to analyze deeply the latest marketing strategies to compete with competitors by increasing more engagements.
They build a beneficial marketing strategy which includes:
Unique Content
Usage of Social Media Platforms
Optimize your website
Importance of Digital Marketing
Digital marketing opens a number of different ways to market the products.
It has become the most important part of what a business is to its customers.
The importance of digital marketing have the mentioned below factors:
Target Right Audience: Social media marketing plays a great role in targeting the right audience in digital marketing.
Digital marketing allows maximizing your ROI in social media advertising.
Social medial platforms are used to grab a huge amount of customers.
Digital Media for small business: It allows the ability of small businesses to hold the top rankings
This also allows you to compete with your competitor as well.
Detailed Targeting: When you run an ad on social media platforms, your main focus on a specific target.
If your target audience reads the publication, you have control over placements.
You can do detailed targeting with a specific:
Goal
Profession
Challenge
Purchasing Behavior
Benefits of Digital Marketing
The benefits of using digital marketing for an online business are:
Global Reach: Digital Marketing allows you to find new markets globally for a small business
Low Costs: You can reach the right audience with less investment
Trackable Results: You can measure marketing with different online tools to an effective marketing campaign
Personalization: If the customer database is linked to your website, this allows you to greet customers with attractive offers
Openness: You can build loyalty and a strong relationship with your clients to easily engage with them
High Conversion Rate: Digital marketing makes more engagements and interactions with customers to increase the conversion rate
7 Reasons Why Digital Marketing is Important for Small Online Business
We're here to explain the best digital marketing ideas for small businesses:
1. Digital Marketing to Make Strong Social Media Presence
Digital marketing plays a great role in building a strong social media presence.
Use different social media platforms to increase engagements.
Once the audience engagements start increasing, the number of getting more sales gradually increases.
Your ads on social media must be attractive, impressive and completely describe your main idea.
Also, add relevant keywords to increase ranking in SERPs.
Digital marketing through social media easily connects you with your audience.
Social platforms also provide the ability to customize individual profiles.
You can rely on a trustworthy digital marketing firm to make a successful digital marketing strategy.
This will help to grow your small online business with the latest marketing techniques.
Here, you have the option to expand the user following options.
2. Use Online Tools in Digital Marketing to Edit Files
In digital marketing, different online tools are used to edit business reports without downloading proper editing software.
One of the best online text editing tool is:
Online Text Editor
For your easiness and to save your precious time, use Online Text Editor to edit the document within no time.
The wordpad online is used to edit the plain text written in the editor.
User can simply copy and paste the document into the editor and start editing: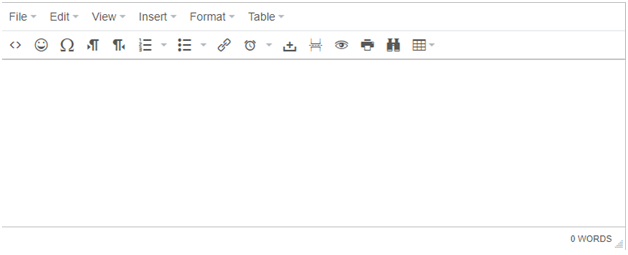 Online Text Editor provides you the following great features:
You can add emoticons and special characters
Also, provide bullet listing and number listing options
Allows you to insert a URL in an anchor text
Permits you to add date and time
Preview and Print options are also available
Allows you to find and replace texts
You can add tables to the document
Allows you to save the document in PDF or DOC form
You can easily change the format of the written document using this text editor.
The online text editor saves your time and provides some extraordinary features to edit the text.
It allows you to save and download the file just within a single click.
You can use a plain text editor to make well-structured reports for your small online business within no time.
3. Digital Marketing is More Co-Effective:
Digital marketing provides a more co-effective marketing channel that delivers the best results in fewer resources.
Most of the sellers get considerable savings by the promotion methods of digital marketing for services and products.
Nowadays, every business owner is shifting his budget allocations from traditional media to online digital marketing platforms.
The most popular marketing platform HubSpot confirms that how digital marketers get better CPL as compared with marketing channels: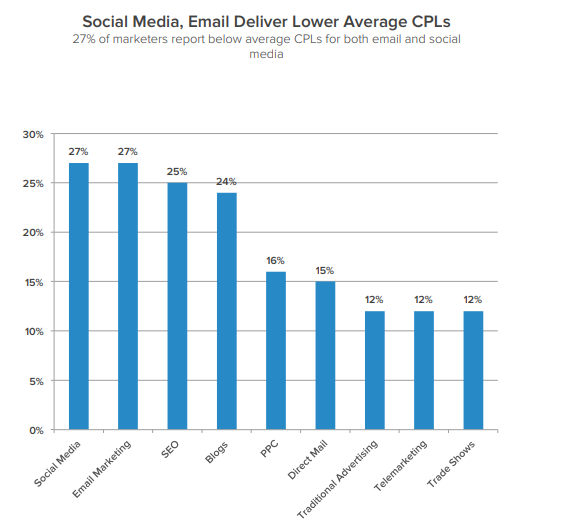 4. You Can Target Your Ideal Audience
One of the factors that digital marketing is important for small businesses is that it provides you the ability to target your right audience.
You can target your desired audience more effectively with the latest digital marketing techniques.
Here, you put information related to your target audience and use that information to make your own digital marketing strategy.
Digital Marketing platforms allow you to reach your ideal customers on social media to get them to follow your brand or business.
Also, if you want to target some specific audience, you can set your desired perimeters for ad campaigns.
This will allow the relevant audience to see your ad.
With digital marketing, you can drive the best results and can generate more leads that are interested in your services.
5. Digital Marketing Makes Interaction with the Right Audience
Digital marketing for business gives you the ability of excellent internet marketing tools to interact with the right audience in real-time.
Customers expect to receive brand engagement to interact with your brand or company.
Your business interactions with the target audience allow you to check the difference between failure and success of the business.
Check the eMarketer's report:
Is your Organization Ready for Digital Transformation? Get know here
6. Digital Marketing Helps You to Increase Revenues
The latest digital marketing techniques will increase the conversion rate and increase profit for your business.
In a case study, Google confirms that IPSOS Hong Kong claims 2.8 times better revenue growth comes by using digital marketing strategies.
Small businesses using digital marketing techniques will have more than 3.3 times better chances.
You can also contract with a reputable and well-experienced digital marketing company to increase your revenue.
7. Digital Marketing Builds Brand Reputation
Digital marketing for small business has the ability to grab the target audience to a website or brand.
The targeted audience for your content is ready to know about your brand or services.
Maybe they're interested in purchasing products or services that you're offering to them.
If you delivered what you promised, this will help you to build a strong relationship with your audience.
This will be beneficial for your brand's reputation.
As satisfied customers will like to tell other persons about their experience with your brand.
If their experience was quite good, your brand's reputation will go viral.
Know here Benefits of Online Presence for Business
Last Words:
The mentioned above factors show the importance of digital marketing for the success of a business.
You can easily grow your small online business by using the latest digital marketing techniques to increase revenue.