How to Create an Online Presence for Business?
Growing your business is one of the most important things for survival in today's market. You cannot grow your business without relevant customers. Thus, attracting more customers is key if you want to scale up your business. In the olden days, attracting customers through television ads, newspapers, and brochures was given precedence over everything.
However, today, we live in a digital world. There are new ways of promoting your business. Search engines are a handy tool to get to know your customers–what they search for and the like. For instance, if they search how to download videos from YouTube, and you have a tech business, then you can optimize your website to include those keywords. There are a lot of handy tools available online that you can make use of and integrate those keywords into your website so that traffic reaches your business.
Today, social media has taken over the internet. Such platforms have enabled many people to start their business from the comfort of their home. Even if you don't have a proper space for a startup, social media and search engines can help you make it through. Thus, in this article, you can learn how you can boost the online presence of your business in 2021.
TIPS TO BOOST YOUR BUSINESS:
Here are some of the most simple and easiest ways to improve and boost the growth of your business online.
1. IMPROVE YOUR SEARCH ENGINE OPTIMIZATION
Search engine optimization is one of the key elements to a better business. SEO is the basic set of principles that aligns your business according to Google's ranking and algorithm. Thus, in order to improve the online presence of your business, implement search engine optimization. This can help you with attracting more traffic, and hence, generating more revenue.
2. PRIORITIZE SOCIAL MEDIA
The key to success in today's world is the power of social media. We see various online stores on Instagram and Facebook. Thus, starting a social media page is a great idea. If you are selling any product, it can serve as an online store. If you want to sell your services, the social platform can serve as an advertisement for your services. Create groups on Facebook and LinkedIn. Invite people to your group and interact with people as much as you can. It is a simple way of growing what you want to do.
3. START VIDEO MARKETING
Video marketing is another great way of improving your business' online presence. You can make a video about your products, services, or business and upload it on YouTube or a similar platform. This is one of the best ways of driving traffic to your business. Everyone is busy with their work–viewing takes priority over reading nowadays. Thus, a short video (with subtitles) is the best way to explain everything. Thus, to keep up the pace with the rest of the world, dive into the world of video marketing as it is a proven way to improve business presence.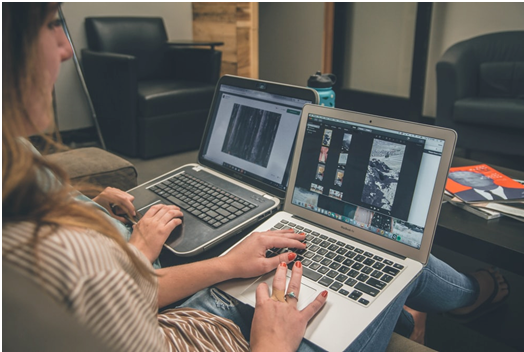 4. START A BLOG
It is always better to write something. A blog is the best thing to do so. Therefore, start a blog of your own. Even if you have a small business, create a blog for your website. This will help ensure that your business grows faster. There is a lot of content out there. Thus, you need a quality blog to draw attention to your site. A good blog is key–you can build from there. From there, you can create your own manual to sell or promote your business. An outstanding blog helps you attract more people to your website and improve your online presence.
5. OPTIMIZE YOUR WEBSITE FOR MOBILE USERS
One of the most important factors while learning to improve the online presence of your business is making it mobile-friendly. According to research, almost 70% of the users visiting a website come via mobile phone. Thus, you need to make sure that your website is optimized for mobile users. The font size, color, background, and other details matter. In addition to this, accessibility to your website by any device is also very important. Therefore, this can help improve the overall status of your business in the market.
Read here Why is Digital Marketing Important for Business?
6. TRY INFLUENCER COLLABORATION
Collaborating with influencers who have a major audience following is one of the best things that you can do to your business in 2021. There are thousands of influencers that can help you gain more traffic. Influencer marketing should be a well-thought-out strategy. Before reaching out to influencers, familiarize yourself with that industry. Thus, it can help you in the progress of your business' online presence.
BOTTOM LINE
The world is growing every second. You can find various techniques to improve your business. Think of your customers and adjust your offerings accordingly. The website should be mobile-friendly and optimized for SEO. Moreover, social media can prove to be the best platform for your business. In addition to this, video marketing helps you ensure improved traffic to your website.
Promoting your business is a must if you want to stand out in the crowd. Therefore, these simple tips and techniques will help you improve and excel in your business.